Email Hosting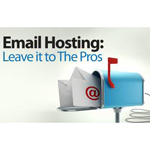 Drukhost also provides business class email hosting for your domain.
Email hosting service comes with the following features:
2GB mailbox per user
Advanced spam/virus protection
User friendly webmail interface
POP/SMTP access
Supported on iPhone, Android and Blackberry
Email hosting plans start from Nu. 3,000 per year depending on the number of users required.
25 Email Addresses:
– Nu. 3,000/- per year
50 Email Addresses:
– Nu. 3,600/- per year
100 Email Addresses:
– Nu. 3,900/- per year
Unlimited Email Addresses:
– Nu. 4,200/- per year